First of all!

heathblossom
translated
Ashes, Ashes
, my wrongbad croatverse Clairestiel/Dean fic that I wrote for

blindfold_spn
,
into Korean
. :D Thank you, heathblossom!
Second of all, get yourself over to the

sassy_otp
commentfic meme
. You should write the prompt about club DJ Cas and the Sam who fanboys him. Mmhmm.
Thirdly, a fanmix. Pretty much after I finished my Novakfest, I decided to reward myself with doodly times on Photoshop. This playlist has been sitting on my iTunes for a while. I still walk back from my internship pining for the Cas fanvid set to
this
. Speaking of Cas! The Casfest S6 commentfic/art meme is in progress, so expect that in a few days. In the meantime, here's Cas in season 5.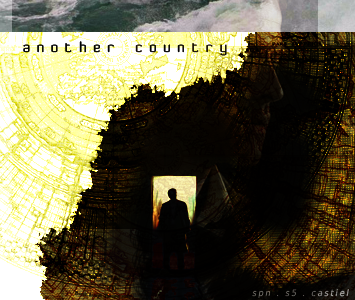 I leave the world
all the time. These arms, these

fingers, this tongue, these feet,
and their bent wings. I know
it will be dirt, the prayers

now in marrow will retake
earth. I will live inside whatever flies.
Burning, the brink of all things.

- from Being by Eireann Lorsung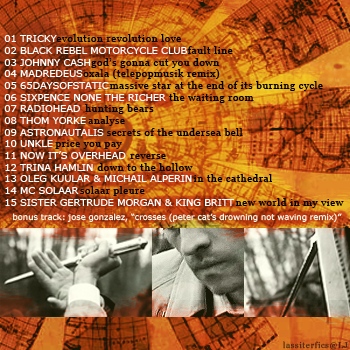 DOWNLOAD (.ZIP)




tricky, "evolution revolution love"

now that you got it right
bring love and it'll make it all right
bring love and we'll take it tonight
now that you got it right



black rebel motorcycle club, "fault line"

from the banks to the far side
see the lights come ashore
racing from the rising tide
to my father's door







johnny cash, "god's gonna cut you down"

He called my name and my heart stood still
when he said john, go do My will
go tell that long-tongued liar
go tell that midnight rider
tell the rambler, the gambler, the backbiter
tell them that God's gonna cut 'em down







madredeus, "oxala (telepopmusik remix)"

oxala, o povo nunca se esqueca
oxala, eu nao ande sem cuidado
oxala, eu nao passe um mau bocado
oxala, eu nao faca tudo a pressa
oxala meu futuro aconteca

hopefully, people will never forget
hopefully, i do not step without care
hopefully, i do not spend poorly
hopefully, i do not do anything hastily
i pray my future happens



Finally realizing
that arriving is not the same as being resident.
That what we do is not what we are doing.
We go into the orchard for apples. But what
we carry back is the day among trees with odor,
coolness, dappled light and time.

-- from Exceeding by Jack Gilbert
65daysofstatic, "massive star at the end of its burning cycle"

surrender
surrender your world



sixpence none the richer, "the waiting room"

and the battle will never end well
you can't marry our Heaven to your Hell
we, prolific, and you, the devourer, need to see
some things are sacred, baby
why have you gone and trampled them lately?
i guess it's just all a part of your way
you should be ashamed
i'm getting tired of fighting
i guess i should ask, "do i go quietly down?
do i kick, do i scream when i'm bound?
are you coming to open the door? are you near?
are you near? is it far?"







radiohead, "hunting bears"

[]
The angels all grow afraid,
let one another go:
never was desire like this,
so vague and great.
Perhaps something soon will happen
that you now grasp in dream.

-- from Annunciation by Rainer Maria Rilke




thom yorke, "analyse"

you traveled far
what have you found?
that there's no time
there's no time
to analyse



astronautalis, "secrets of the undersea bell"

every old salt knows a song to sing
when things go wrong and things go wrong
that can resurrect men with mighty hymns
cannot raise the diving bell







UNKLE, "price you pay"

fix it up
throw it away
i don't care
it's the price you pay
There is a pang. The heart in clench.
Then memory. Then retreat
Into the present. That silence.
Not emptiness, but weight.

- from After Persephone by Tracy K. Smith
now it's overhead, "reverse"

your head in the mouth of a lion
your knees giving in under you






trina hamlin, "down to the hollow"

i'm going down to the hollow
where the trees meet the soul
and i'm trying not to follow
another long, lost, lonely road







oleg kuular & michail alperin, "in the cathedral"

[]



mc solaar, "solaar pleure"

je suis au Paradis, je sillonne les plaines
à la recherche des resquilleurs dans le jardin d'Eden
j'ai contrôlé les anges, pas de haine et pas d'ennemis
sinon j'ai le canif
et j'inaugure le meurtre au Paradis
mais j'n'étais pas un héros - juste un mec fait d'os et d'eau
maint'nant j'suis une âme qui plane perdue sans stylo

i'm in Heaven and i root through the plains
looking for sinners in the Garden of Eden
i've controled my angels: no hatred and no enemies
otherwise i have my blade
and i inaugurate murder in Paradise
but i wasn't a hero - only a man made of bones & water
now i am a soul unchained, lost without a pen



sister gertrude morgan & king britt, "new world in my view"

let us humble ourselves, dear one
get ready for the new world
prepare yourself to live in that holy city
let not your heart be troubled
believe in God
believe in me also



jose gonzalez, "crosses (peter cat's drowning not waving remix)"

i can swim home



there's no going home.

Everywhere you go will be somewhere
you've never been.

- from Theories of Space and Time by Natasha Tretheway
Note: Original photos from
Antonio Androsiglio
,
Russel Tomlin
,
hypernerve
, and
takemetherephotography
.