Title
: Without a Map
Authors
:

jaimeykay
&

twoskeletons
Artist
:

august_monsoon
Genre
: gen with D/C overtones, drama, action/adventure
Pairings/Characters
: Dean, Castiel
Rating
: PG-13
Word Count
: ~35,400
Warnings
: language, violence
Notes
: Smaller versions of the art pieces are embedded in the LJ posts. Clicking on them will take you to the full-sized originals.
Summary
: Set after 5x03 and before 5x04. Dean knows a thing or two about absent fathers, but he didn't expect Castiel to ask him if he wanted to come along on the search for God. He also didn't expect to say yes. Cue the two of them going around the world, from mountain peaks to bustling cities to subterranean caverns. They talk with prophets, angels, and deities, but they are running out of leads and running out of time. As the dead ends and red herrings pile up, so do their frustrations, testing their faith in each other and themselves.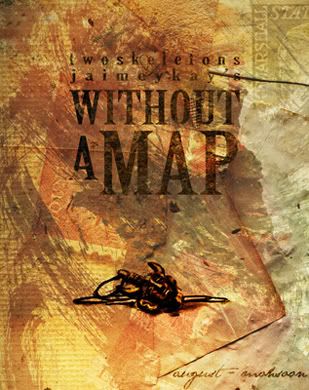 PROLOGUE | ONE | TWO | THREE | FOUR
ART MASTERPOST | AO3 (no pictures) | ODDS 'N ENDS
Acknowledgments
: We would like to thank:

august_monsoon
, who went above and beyond the call of duty with her art pieces;

switchbladesis
for her incisive beta; our location consultants -

zempasuchil
(Teotihuacán),

anneretic
&
roadhouses
(Manila), and

dayadhvam_triad
(Hong Kong);

kalliel
for helping with the Russian translations; and our friends for humoring our stress and weird questions. This fic and our general well-being would be much poorer without you. <3